This first-class router is a stand-up performer
By John R. Delaney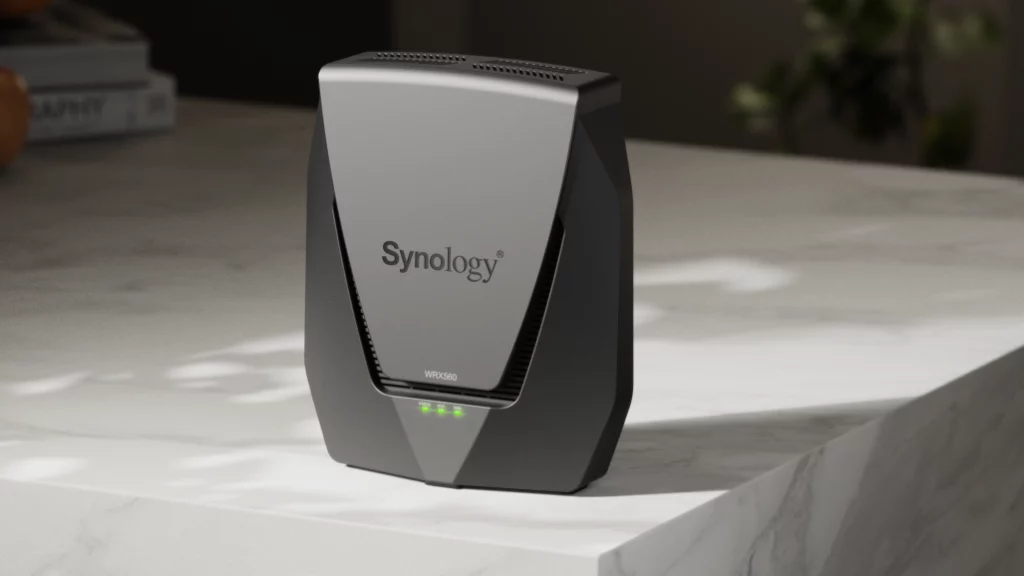 When we reviewed Synology's flagship RT6600ax router last year, we gave it high marks for its multi-gig connectivity and strong parental controls, but were disappointed by its 5GHz throughput performance. The new, more affordable Synology WRX560 ($219.99) also offers multi-gig networking and the same robust parental controls, but this dual-band Wi-Fi 6 router delivered superior throughput on both radio bands and good signal strength in our tests. Its file transfer performance could use a boost, but the WRX560 is an otherwise excellent, feature-rich mainstream router that earns an Editors' Choice award.
---
Design and Features
The WRX560 doesn't look like a typical desktop router. Its 9.1-by-7.6-by-2.5-inch (HWD) black enclosure stands vertically, with beveled edges and grillwork that give it a futuristic, minimalist look. The device's vertical stance does make it vulnerable to tipping over, which is exactly what happened when my cat decided to rub against it, and there are no options for mounting the router on a wall.
You Can Trust Our Reviews
Since 1982, PCMag has tested and rated thousands of products to help you make better buying decisions. Read our editorial mission(Opens in a new window) & see how we test(Opens in a new window).
(Credit: Synology)
You won't find the usual external antennas here; instead, the Synology uses six internal antennas to communicate over the 2.4GHz and 5GHz radio bands. Three small LED indicators on the front signal system status, Wi-Fi activity, and WAN activity.
Most of the WRX560's ports are located on the rear panel, including a 2.5Gbps WAN/LAN port, a 1Gbps WAN port, and three 1Gbps LAN ports. They are joined by a power port, a power button, and a reset button. On the left side, you'll see a USB 3.2 Gen 1 port and WPS and Wi-Fi on/off buttons.
This article first came out at https://www.pcmag.com/