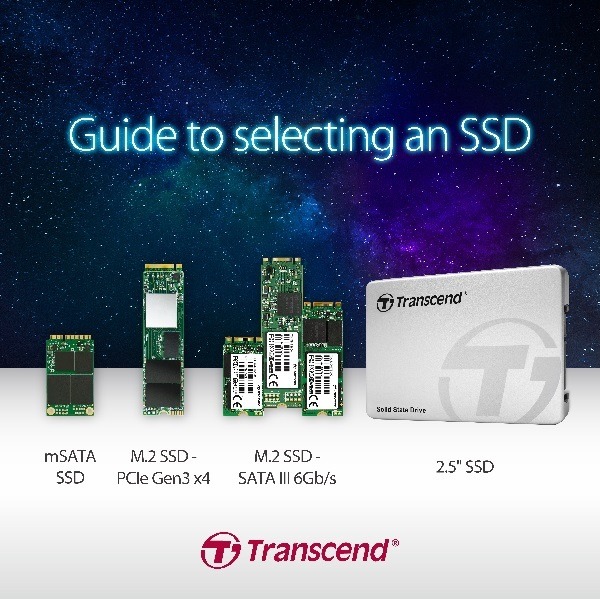 Upgrading from a traditional HDD to an SSD grants you a faster loading and access time to your data on your current HDD based system. As there are no moving parts in an SSD, lower power consumption are expected and the chances of failure from impact are pretty much negligible. Transcend Information, Inc. (Transcend®), a leading manufacturer of storage and multimedia products, presents a quick guide on how to select the right Transcend SSD based on your needs, from the wide range of Transcend SSD lineup that caters to the needs of different users.
Essential Components of an SSD
SSD controller and NAND flash are the two major components, with the DRAM as optional. This can be seen on entry-level SSD that is catered for users who wants an SSD upgrade on a very tight budget.
Unlike a NAND flash, DRAM requires power to hold data and loses the data after a power cycle. Despite its volatile nature, DRAM serves great as a cache that improves the 4K random read and write performance of an SSD compared to the ones that doesn't comes with any DRAM cache.
Types of NAND Flash
There are different types of NAND flash available in the market, namely Single Level Cell (SLC), Multi-Level Cell (MLC), and Triple Level Cell (TLC) that serves different market verticals. With SLC being the fastest and has the longest lifespan up to 50,000 program-erase cycles, it is the most expensive NAND flash in the list and only available in smaller capacities. MLC is somewhere in the middle of both SLC and TLC, providing a balanced performance and reliability of up to 3,000 program-erase cycles, which makes it an affordable and suitable choice for everyday computing use and gaming. TLC, the most affordable NAND flash of all, is the least durable variant with fewer than 1,500 program-erase cycles. Despite its limited write endurance, TLC still serves its purpose for consumer applications that doesn't tax much on the NAND flash itself.
With the introduction of 3D NAND flash, manufacturers can further improve the endurance and reliability of MLC and TLC NAND flash. 3D NAND technology benefits TLC the most, as it can allow TLC NAND flash to perform at the level which is comparable to a planar MLC NAND flash.
Choosing the Right Transcend SSD Based On Your Needs
To ensure the utmost level of quality, Transcend SSDs undergo rigorous testing at all stages of production, including tests for vibration, temperature and humidity, speed, and functionality.
Users with a tight budget for SSD upgrade can consider for the entry-level SSD220 SATA III SSD, or perhaps the 3D NAND flash based SSD230 SATA III SSD or MTS420, MTS810 and MTS820 M.2 SSD that are capable of up to 560MB/s sequential read performance.
For users with some extra budget to stretch for a better choice of MLC NAND flash SSD, Transcend's mid-range SSD340, SSD360 SATA III SSD makes a great choice for both work and entertainment. If smaller footprints are part of the consideration for upgrade as well, the MTS400, MTS600 and MTS800 M.2 SSD are some of the mid-range choice that's worth the mention as well.
Transcend's high-end SSD lineup includes the SSD370, the SATA III 6 Gb/s 2.5″ SSD based on MLC NAND flash. It features capacities of up to 1TB that falls in the sweet spot of balanced performance, reliability and user's need for more space. If 560MB/s sequential read is not enough, how about 2,500MB/s? By utilizing the PCIe Gen3 X4 interface, the high-end MTE850 M.2 SSD is capable of sequential read and write of up to 2,500MB/s and 1,100MB/s, which are specially cater for users who just wants the best performance and reliability for their system.
Source: Transcend