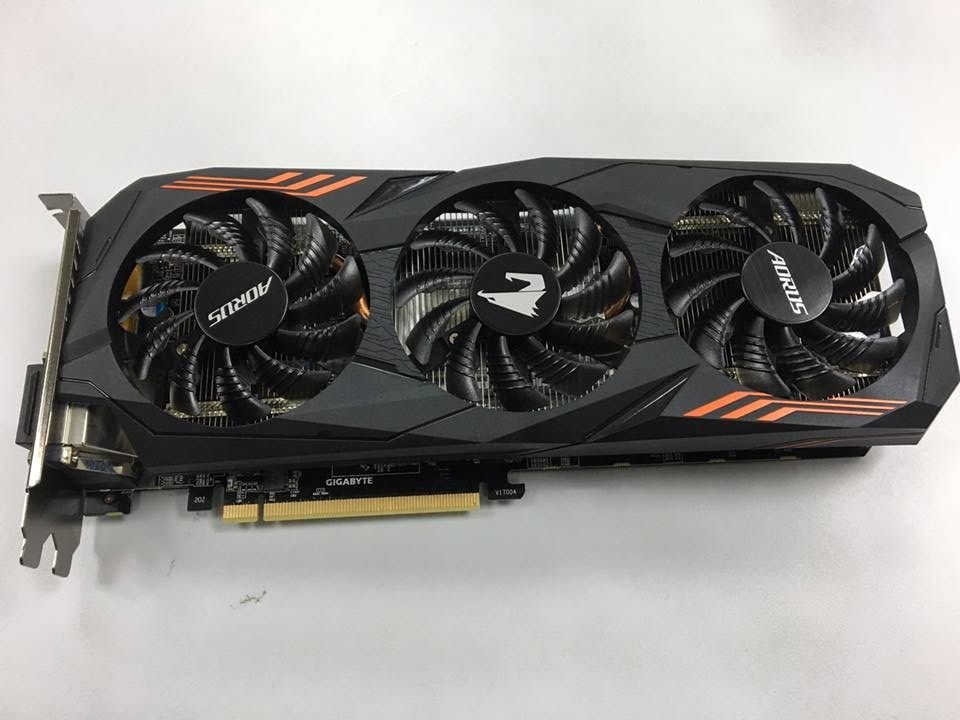 We're still in that age where most of the monitors in use are still with 1080p resolution, whether in the office, home, or the iCafe.
With that said, today we're going to check out a graphics card that can max out game settings on 1080p and can go beyond that resolution, to let users experience 1440p or even 4K resolutions, enter the Aorus GTX 1060.
What's inside?
The Aorus GTX 1060, a Pascal based graphics card, boasts 1280 CUDA cores and 6GB of GDRR5 memory that is wired to a 192bit interface. Out of the box, the Aourus GTX 1060 comes with a default base clock of 1607MHz that boosts up to 1835MHz, but with the Aorus Graphics Engine, its base clock can go up to 1632MHz that boosts up to 1860MHz when in OC mode.
There are 3 more modes in the Aorus Graphics Engine, one is Gaming Mode that has the same clocks as the default clocks, the other one is Silent Mode that clocks down the base clock to 1506MHz that can boost up to 1734MHz, lastly, the User Mode – the profiles that can be seen here are your overclock profiles, which you can create via the Professional Mode. But, before you go overclocking the hell out of this or any of your PC components, you should always read and learn the dos and donts of overclocking.
Speaking of overclocking, the Aorus GTX 1060 is equipped with the Windforce 3x Cooling system that is backed up by a large heat-sink that has copper pipes that directly absorbs the heat from the GPU and just like the higher tier cards of Aorus, the Aorus GTX 1060 (6GB) comes with a backplate infused with a copper plate that helps dissipate excess heat that comes out of the back of the GPU. Overclocking enthusiasts will surely have more room to play around.
Synthetic Benchmarks
Just like what we did in our previous reviews, we'll first run synthetic benchmarks to give us an idea as to what resolutions, peak temperature, and graphics settings that the graphics card can handle.
Our first test is Heaven Benchmark. This test will give us an idea as to what temperatures to expect from the graphics card under load and what FPS to expect on 1080p and 1440p resolutions.
We ran Heaven Benchmark a couple of times with just seconds of interval from each run, we did this to determine how fast the Aorus cooling system could dissipate heat and to know the temperature level that the cooling system could hold.
On this test, the Aorus GTX 1060 was able to hold the temperature at around the 66*C – 68*C that managed to get around 68fps on 1080p and 40fps on 1440p. The Aorus cooling system with its fan curves on default was able to lower the temperature of the GPU from its peak temperature(68*C) down to idle temperature (40*C) at just around 20 seconds. The overall temperature can still be lowered by playing around with the fan curves via the Aorus Graphics Engine. By default, at 100% GPU load that garners a 68*C peak temperature, the fan speed will only reach 50% – 53% – which is just around 1750RPM. Playing around with the fan curve will get you a 6*C difference in temperature, however, fan noise will be more noticeable.
Just like what we did on Heaven Benchmark, we also ran Fire Strike Extreme a couple of times with just seconds of interval from each of the run. On this test the Aorus GTX 1060 was able to get a score of 5981 and was able to hold the temperature around the 66*C – 68*C mark – this is still with the fan curves on default.
Game tests, and what we think
For our game tests, we pitted the Aorus GTX 1060 with Battle Field 1, GTA V, Far Cry 4, and the ever popular MOBA game – Dota 2.
On Battle Field 1, the GTX 1060 performed pretty well on 1440p with settings on ultra. Tho, the FPS we got while playing was just around 25fps on average that goes down to 15fps on intensive scenes, Battle Field 1 was playable even with low fps readings, but if buttery movements and transitions are the top priority in your list, then lowering the graphics quality or opting for 1080p would be the right way.
Moving on to GTA V, a four year old game, on 1440p with all the settings on max, it was able to hold an average of 33fps that goes down at around 24fps on scenes that require more graphical push. On 1080p with all the settings on max, the FPS was averaging at 45fps. We never saw the FPS go below 37fps on 1080p.
Far Cry 4, a first person shooter game released in 2014. Tho, the game is a bit old, it can still give most of the modern graphics cards a hard time when all of its settings are pushed to max and outputted on resolutions beyond 1080p. In this game test, the Aorus GTX 1060 was able to maintain an average of 30fps on 1440p and an average of 52fps on 1080p.
Dota 2, one of the most popular eSports title, told a different story. In this game the Aorus GTX 1060 performed above expectations. It was able to go beyond 100fps on 1080p and even on 1440p. Even in scenes that demanded a lot of graphics processing, it was still able to hold the FPS at 98fps – 110fps.
The results of our tests and benchmarks tell us that the Aorus GTX 1060(6GB) is the graphics card to beat in the 1080p realm. The pricing would be a bit off for some, however, its larger memory and overall performance surely make it a rational choice for those who want to experience high-end performance on 1080p and 1440p.